The Fitting Wizard Pro is a complete practice management package which is both easy to use and intuitive.
The Fitting Wizard is compatible with all versions of Windows, up to and including Windows 10, Windows Server (32 and 64 bits), as Virtual server or Citrix.



Virtual Server
The Fitting Wizard Pro can also be accessed safely from multiple sites (including your home) using the latest technology virtual server. We have teamed with a company called Habitat-3. This company offers a totally hasle free, safe, reliable and secure solution, with only a small monthly fee and no capital or maintenance costs.

This Virtual server is hosted in a hight speed secured data centre in Australia. We have tested it extensively with Noah, Fitting Wizard, remote printing etc.. It is fast and responsive, and is ready to go within a very short time. You can contact Habitat-3 for more details.


Claiming
The program caters for OHS Clients (Claims), private Clients (Invoices), Prospects Insurance and Workcover clients. OHS claims can be entered and include compehensive error checking with suggested solution. The OHS claim forms can be printed and processed electronically to Medicare. Unprocessed or rejected claims are monitored to make sure none are missed, and maximise income.



Electronic Claims
The E-Claiming process simplifies claiming and payments and minimises labour. Claims are Uploaded to Medicare in batches. The software makes it very easy with a simple step by step process. A couple of hours after uploading, the results can be downloaded. Amount paid, the date of payment and rejected Items are known immediately. The rejected claims can be fixed and re-processed straight away.



Data entry
All the data is entered from this page. Each tab, shown in gray bellow, allow access to part of the Client data including Invoices, Claims, Visits, Hearing aids, Repairs, Hearing tests, Tympanometry, Batteries, Notes, Appointments, To do List and Customer Relationship Management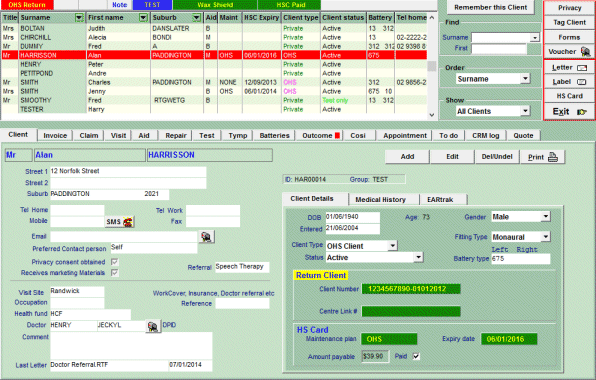 Go top



Hearing Tests
Hearing test can be entered manually or captured from the NOAH modules of the following Modules/Audiometers
- Aurical, - Affinity, - Medrx, - Astera, - Primus, -Calisto and -Unity. More are added as they become available.
Hearing tests are captured with the click of a button. The software automatically detect the type of audiometer the file is from, then shows the results in the Test area.
The 3FAHL and MPO will be automatically calculated and the 3FAHL values will later be automatically be copied to the OHS claim forms.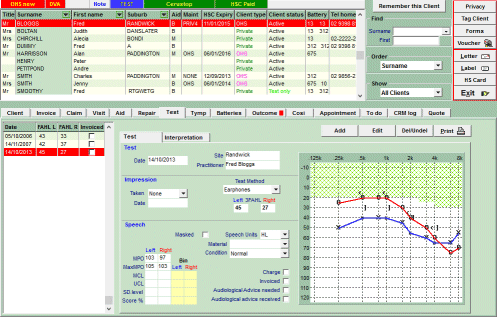 Hearing Test and Percentage Loss Reports
The Hearing test report is configurable with single or double audiograms as required. It can accommodate air and bone with masking.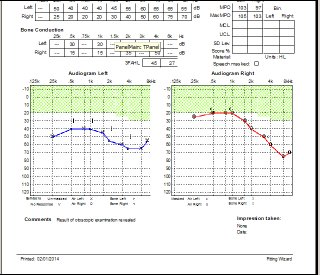 The percentage Loss can be calculated using one of several formulas, and printed in a variety of format depending on the requirements



Connecting with Doctor's Software (Argus / Genie / Medical Objects)
The Fitting Wizard can save reports in pdf and rtf formats. This allows the reports to be either emailed to a doctor or placed directly into Argus, Genie or Medical Objects for example, for automatic sending to the referring doctor.
Go top



Automatic OHS Maintenance & Batterie Renewals
M&B renewal has been automated so that you can create all the renewal claims with the push of a button. This can include a cover letter and even a printed HS Card if you wish. The Fitting Wizard keeps track of Clients' HS card expiry dates. It will warn when a client's card is expired and will list expired cards or cards about to expire. A the click of a button, It will automatically create the B&M claims for a range of expiry dates, print the claims with cover letter customise for each recipient. The process is very simple and requires very little labour. Letters not responded to can be re-generated a month later.



Invoicing For private Clients and OHS topups
You can create and print invoices, manage the inpaid, bank statement etc. The GST report provides the figures needed to makes filling the BAS very easy. There are several format for the invoices, a separate one for for Medicare, Workcover or general use. They can contain a company logo as in the example below: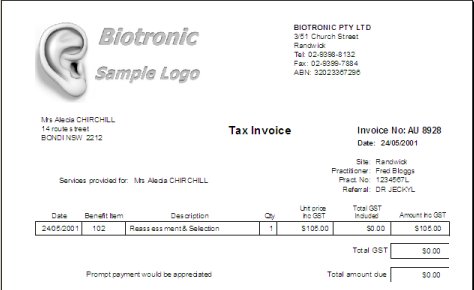 The invoicing window is shown below: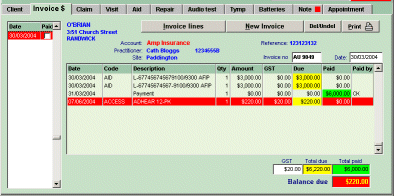 The invoicing offer full flexibility and summary reports can be compiled by ledger items to update your accounting package if you use one. Thus avoiding double entries. Monthly statements, payment reminders and Bank deposit slips are included.
The Fitting Wizard Pro also include the ability to create and manage quotations.
Go top

The program features a comprehensive set of accounting features and reports to cover all income accounting requirements.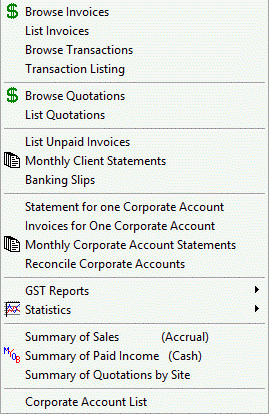 Go top




Hearing Aids
Client's hearing aids can entered or selected from stock. You can print Hearing aid order forms,Repair order form and listing can be printed for Clients, Claims, Visits, Hearing aids and Repairs with a large variety of selection parameters.



Hearing tests
Hearing test parameters can be stored, Air, Bone and Tympanometry are supported with colour graphic printouts. The percentage Loss can also be calculated and printed with a breakdown of the loss per frequency.



Appointments
An integrated Appointment manager is included to manage appointments for multiple Practitioners and Sites. Clients can be booked directly from the main screen. For existing clients, Name, Telephone and status is shown in the appointment.
The Start Time, End Time and Lunch Time are selectable. The number of days shown can be selected from 1 to 7 days. The display can be filtered by site, practitioners or both.
| | |
| --- | --- |
| | |
| The appointment screen set to show 2 days for 2 practitioners, ready to add a new appointment | Adding an appointment |

SMS Messages
SMS Messagess can be sent to individual clients, to groups of clients or to client who have appointments on a specific day, directly from within the program. A simple registration is required with an SMS gateway. Specific information is provided in the program to do this, and you will be able to send SMS messages immediately.

Letters
A built-in template letter system allows you to print letters for one client, for a group of clients or for a client's doctor. Template letters are a simple yet powerful form of Mailmerge. It can be used to mail Clients with expired HS cards, Expired hearing aid warranties, Doctor letters, Client's birthday etc. A spelling checker is incorporated into the letter with Live spelling capability and the documents can contain graphic images or tables.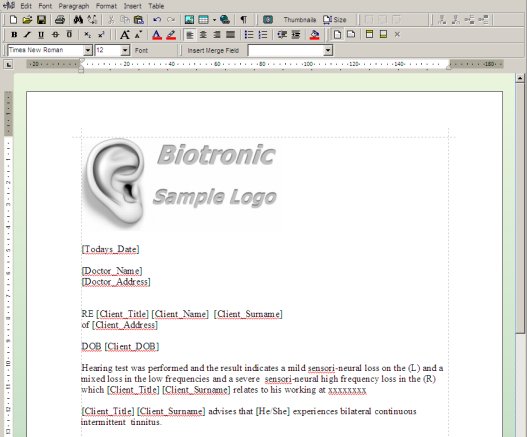 Customer Relationship Management (CRM)
Letters and Emails are automatically recorded in the built-in CRM module, phone calls and visits can also be recorded manually.

Outcome / KPI
Outcomes / KPI can be recorded. A selection of user defined templates simplifies the process and produces consitent quality record keeping, consitent with the OHS contract requirements. The templates can be modified to suit your needs. There are 8 templates: Assessment, Referral, Fitting, Rehabilitation, Follwow-up, Short and Long term outcome and After-care. They can be edited with the same tool used to create template letters.



Listings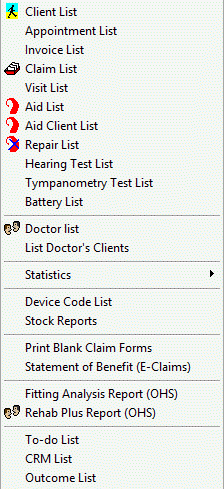 Listings can be printed with a large number of selections for Clients, hearing aids, Visits, Doctors etc.. a list is displayed above. There are also options to save the data as pdf or csv files for use with Excel and to send letters to the recipient list,


OHS Management
There are extensive reports taylored to monitoring OHS clients Some of them are shown below



Marketing, Practice monitoring and activity indicators
The Fitting Wizard integrates with the SendOutCard system which allows the creation of campaigns for the sending of cards or gifts. The Wizard provides the required client list and automatically login to the SendOutCards site for seemless processing. A compehensive help file is provided on how to manage a campaign, which is an inexpensive way to improve your customer relationships.
More info on the SendOutCards system is available here (https://www.sendoutcards.com)

There are plenty of reports to keep track of site and Practitioner activities, some of them are shown below. New reports are added as required or on request.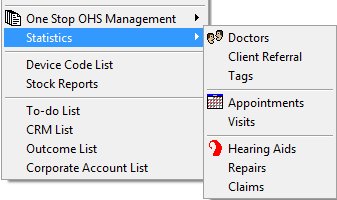 Go top



Display
There are 3 selectable colour themes to choose from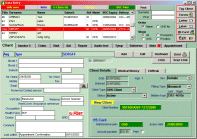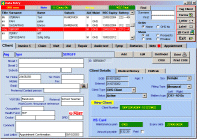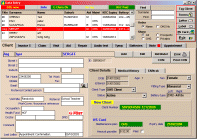 Labels
Mailing labels can be printed with the same selection as listings for both Clients and Doctors. Five label formats are available including a custom format. The internal letter system in conjunction with window envelopes, make the printing of labels mostly obsolete.

Quality Control
Client Outcome and quality assurance are becoming more and more important today. We are well aware of this and Fitting Wizard now supports the EARtrak (TM) quality control by providing the functionality to produce all the output required, with little effort. You can find more about EARtrak (TM) by Visiting the EARtrak site




Data Backup
A Backup feature is built-in with integrated support for Cloud backup. Data Restore functionality is also built-in.



Compatibility
The Fitting Wizard is compatible with absolutely all versions of Windows and will run on the Mac with either Bootcamp or Parallel running Windows.



Upgrading from prior versions
Upgrade packages are available to move up from Claim to ClaimPro or Fitting Wizard, or to upgrade to the latest version. Each upgrade package comes with an intelligent data convertion utility to port your existing data to the new format.



Demonstration program
You can Download a Demo version of the program to test it for yourself. It is limited to a small number of clients, otherwise fully functional.
The complete manual is be available in the install folder as Manual.pdf.
You are welcome to call us for a remote guided tour with no obligation, if you wish.

Go top


Requirements


The software will run on any PC and runs on all versions of Windows, including the latest Windows 10 (32 and 64 bit) as well as MS server 2012, 2016 and 2019. Minimum screen resolution is 1024 x 768


Availability
This software package is available now. It comes on a CD with a very comprehensive printed manual and on-line help files.



Technical Support
Free technical support by telephone is available for a period of six months after purchase. This include remote support, remote training and free updates if available during this period. The technical support can be renewed on a yearly basis.

Pricing
Payment modality is within 14 days by Company cheques or Credit cards ( Bankcard Visa & Mastercard add 2% to listed price ) and direct deposit
| | |
| --- | --- |
| Single user | $2680.00 |
| Multiuser (network version) | $3040.00 |
| Update from Claim Wizard | $1580.00 |
| Update from Claim Wizard Pro | $980.00 |
| Upgrade from Single user to Multiuser version | $360.00 |
| Yearly technical support and updates, after the inital 6 months free support and training has expired | $341.00 |
| Credit card payments, add 2% to listed price | + 2% |
All prices include GST.
The software comes on a CD with
- A comprehensive printed manual
- On-line help
- Free Updates and technical support by telephone and remote sessions, for a period of six months after purchase, renewable on a yearly basis.

Go top



Ordering
To contact us, send e-mail to
Call us on 02-9592-4603
International +612-9592-4603